About Steve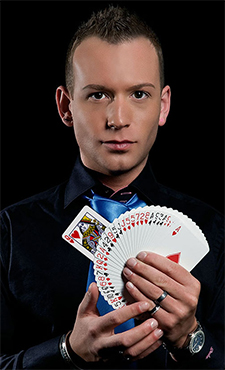 Steve is one of the most decorated magical performers in the world with 19 international awards to his name. These include, 'UK Close Up Magic Champion' as awarded by the International Brotherhood of Magicians – a title Steve has now held on two occasions.
Steve also made magic history in 2007 by becoming the only magician to win The Rovi Trophy – presented to the UK's best card magician – three years in a row. Before Steve no performer had ever won this award more than once.
Steve began performing magic professionally at the age of 16. Just one year later 'The Magic Circle' awarded him the prestigious accolade of 'Young Magician of The Year'. He also gained automatic entry to this world famous magic organization and within just two months was promoted to an 'Associate of The Inner Magic Circle' with Silver Star (for exceptional performing ability).
Steve still holds the honour of being the youngest ever recipient of this degree and later went on to become the youngest EVER council member of 'The Magic Circle'.
Steve is one of only a handful of magicians to have his photo permanently displayed on the wall of 'The Magic Circle'. This is the magic equivalent to receiving a star on the Hollywood Walk of Fame.
Steve has made countless TV appearances including Blue Peter, BBC Breakfast News, ITV DayBreak and most notably was the first ever British magician invited to appear on Europe's highest rated TV show in Paris, 'Le plus grand cabaret du monde'.
February 2010 saw the launch of Steve's two-disk DVD set.
Steve is acknowledged by his peers to be one of the most skilled magicians in the world.
Given his accomplishments and success Steve is in constant demand as a lecturer at various clubs, societies and conventions around the world. His DVD was released to teach his original routines to other professional magicians.

This also includes a lot of advice on how to be a 'better performer'.
Steve has been featured in "MagicSeen - Europes No.1 Magic Magazine" - Click icon to read the article.